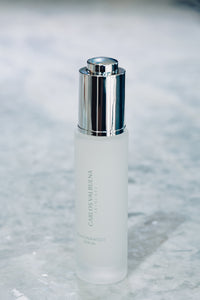 A restoring serum for your skin. It contains Niacinamide, Panthenol and Hyaluronic Acid to lock in moisture, reduce redness, improve visible elasticity, and smooth your skin complexion.
It has the hability to visibly improve the appearance of enlarged pores, uneven skin tone, fine lines, dullness, reducing some signs of sun damage that come with aging, this includes fine lines and wrinkles. This formula helps improve the overall appearance of the skin. Works great in oily, dry and combination skin type.
Niacinamide: is a very effective skin-restoring ingredient that offers multiple benefits for aging skin. The benefits of moisture retention aren't just dry skin types. Niacinimide can also help regulate the amount of oil the sebaceous glands produce and prevent the glands from going into overdrive. It also helps build cells in the skin while protecting them from environmental stresses, such as sunlight, pollution, and toxins.
Lycium Barbarum: is naturally high in antioxidants, essential fatty acids, vitamins, amino acids and trace minerals. It also has anti-aging properties and is known as the most powerful food for anti-aging. The antioxidants, fatty acids, vitamins and minerals that it contains makes it very beneficial in slowing down the aging process.
Cucumis Sativus: is primarily composed of water but also contains vitamin C and caffeic acid, both of which prevent water retention, help soothe skin irritations and reduce swelling. It also contains a variety of beneficial minerals including silica, potassium and magnesium.
Panthenol: is known for its humectant, emollient and moisturizing benefits. Excellent in skin care applications, it has the ability to penetrate the skin and improve hydration while reducing redness and inflammation.
Water, Niacinamide, Propylene Glycol, Dimethicone, Cyclotetrasiloxane, Cyclopentasiloxane, Phenoxyethanol, Ethylhexylglycerin, Panthenol, Polysorbate 20, Xanthan Gum, Acacia Senegal Gum, Salix Alba Bark Extract, Sodium Hyalunorate, Disodium Edta, Tocopheryl Acetate, Fragrance, Lycium Barbarum Fruit Extract, Cucumis Sativus Fruit Extract, Camellia Sinensis Leaf Extract, Glycyrrhiza Glabra.
A luxury glass bottle with dropper.
Cruelty Free, Vegan, Mineral Oil Free, Paraben Free, Phatatles Free.
 Net Weight: 1 oz (30 ml)